(Blog Home)
by Michael Neel
March 16 2010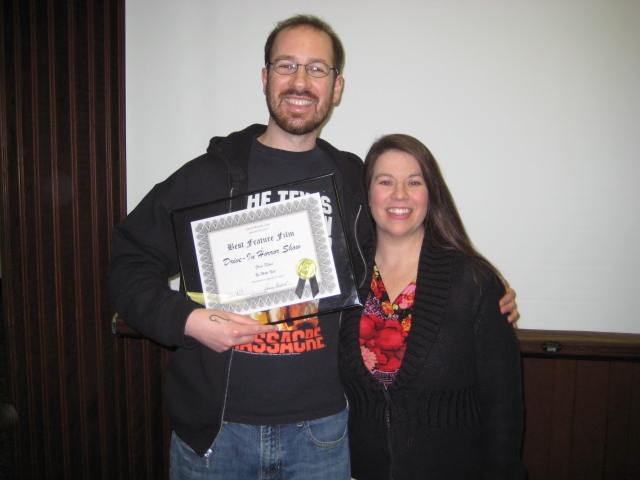 Michael and Denise from the Dark Woods staff
Last weekend, Drive-In Horrorshow played at Dark Woods Con in Pikeville Kentucky. The screening was great, and we won the award for Best Feature Film!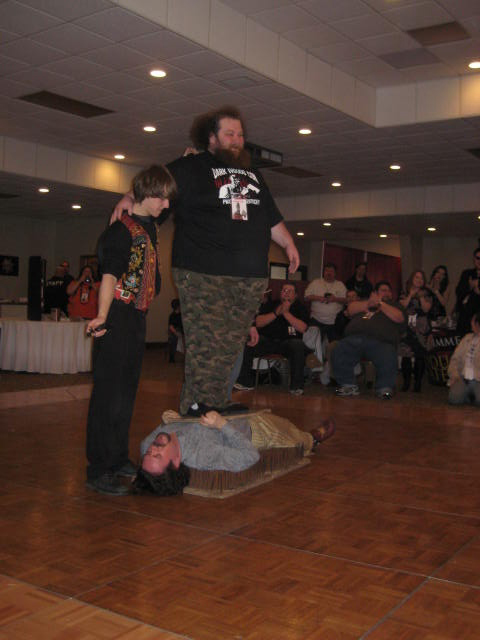 That's gonna hurt in the morning.
I met lots of creepy folks - from filmmakers to artists and everything in between. The Pickled Brothers Side Show set the stage with some freakishly fun entertainment.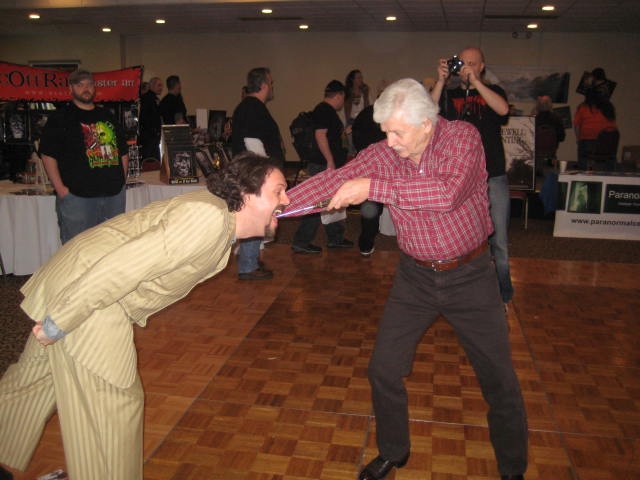 Halloween 2's Michael Myers (AKA Dick Warlock) helped out the Pickled Brothers, and showed why he is a master slasher.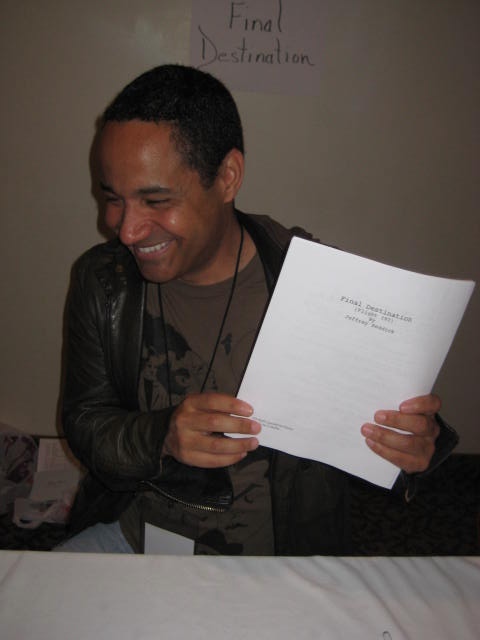 Final Destination screenwriter Jeffrey Reddick shared his scary script with me. He's laughing now, but he'll kill your later.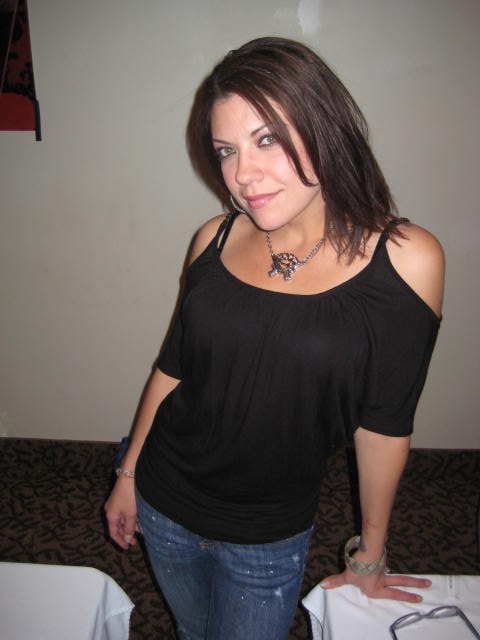 I ran into scream queen Tiffany Shepis, straight from promoting The Violent Kind at Sundance.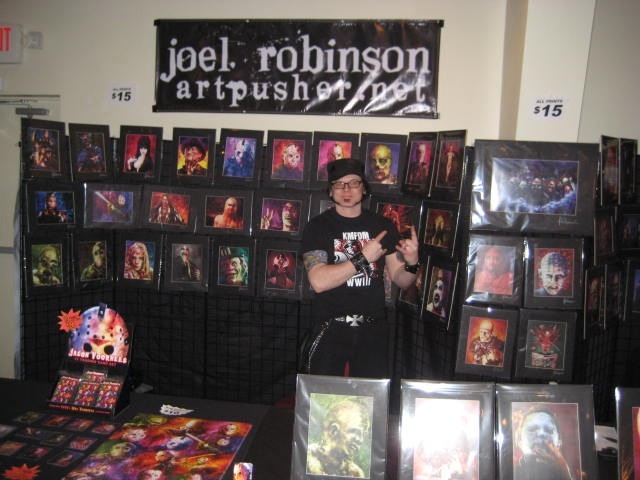 Looking for a portrait of your favorite horror heroes (and villains)? Joel Robinson has it all, from Freddy to Zombie Spider Man.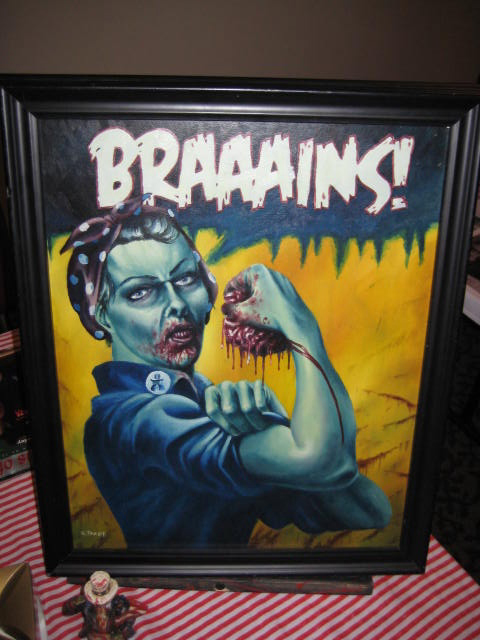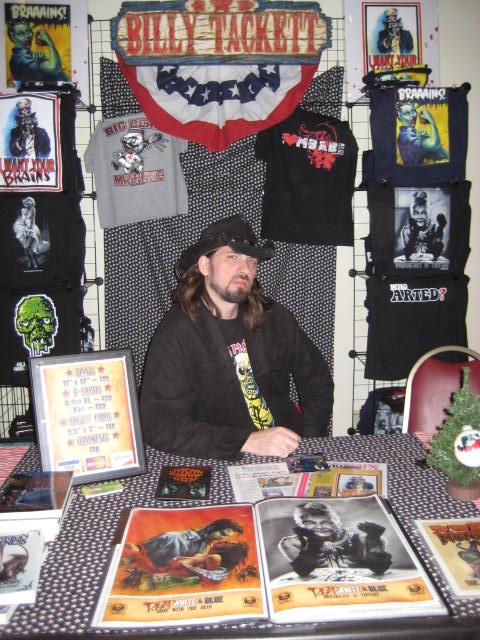 If you need Zombie Rosie the Riveter, or perhaps The Big Dead Machine, Billy Tackett is your man.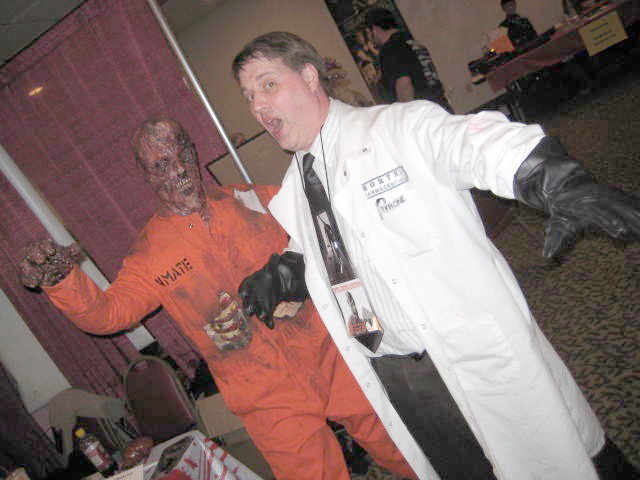 Todd Burrows from ZP International introduced himself - and he brought a crispy companion.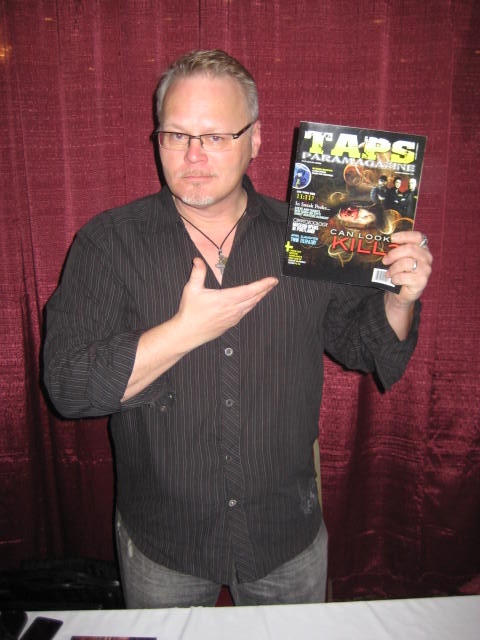 Scott Roberts From TAPS Paramagazine gave me the inside scoop on ghosts, ghouls, and the paranormal.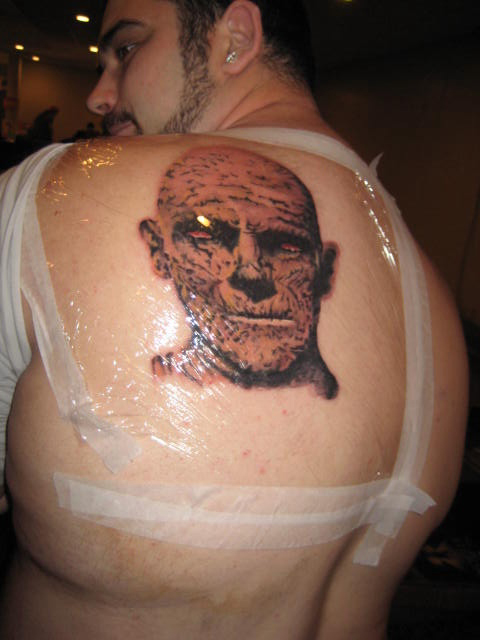 The tattoo needles buzzed all weekend long, courtesy of Southern Steel Tattoos.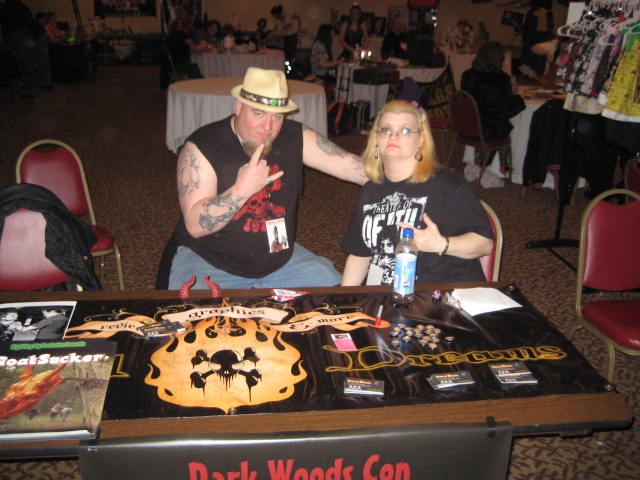 Imfernal Dreams filled my brain with the most wonderful nightmares.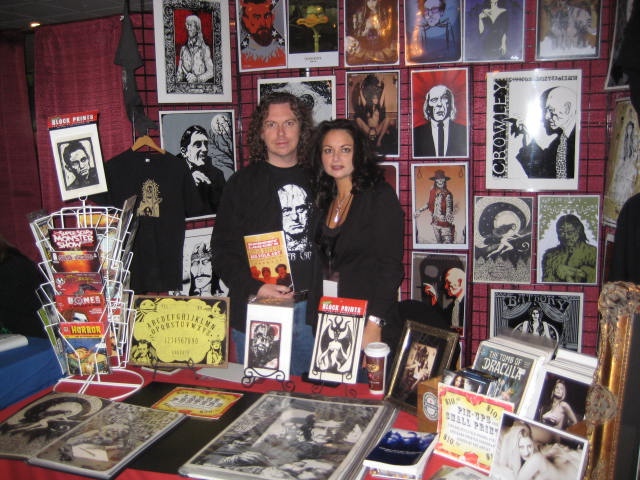 Alistair Crowley, Edgar Allen Poe, Tim Burton - if you crave paintings of horror icons and other creepy things, Cypocryphy.com can take care of you.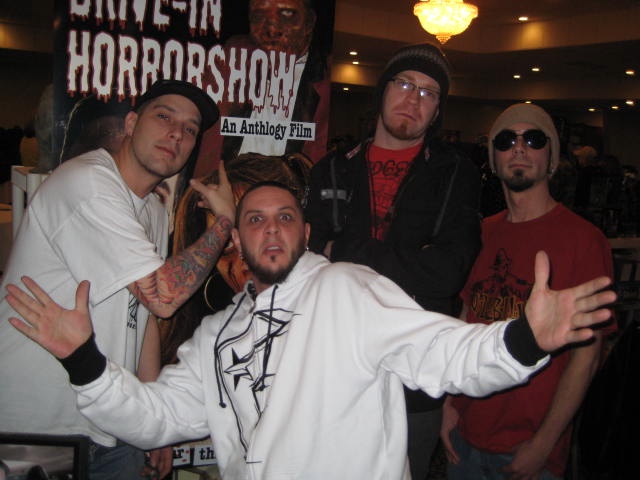 Straight from the sanitarium, Vilebillies blessed the Drive-In Horrorshow booth with some sick and twisted music.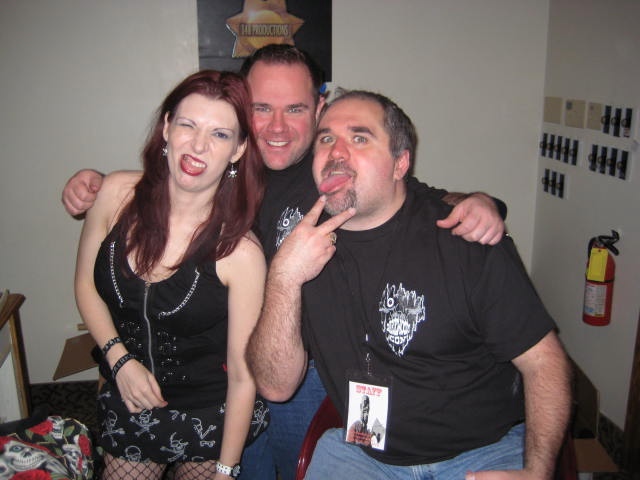 Dark Woods' Scary Staff (Heather Price, Cherokee Hall, and Chris Hall)
All in all, I had a ghoulishly good time. The staff was fantastic, the fans were awesome, and I met so many ghoulishly great people. Thanks to everyone at Dark Woods Con!


What they are saying about the Drive-In Horrorshow....
"10 out of 10"
- From Infernal Dreams
"Drive-In Horrorshow delivers a visual feast of blood splatter and clever storytelling."
- From Fangoria
"Drive-In Horrorshow takes the anthology and juices it fully with five unique stories that range from clever comedy to dark body horror."
- From Deadly Doll's House of Horror Nonsense
"A well made anthology of short films."
- Zombie Movie Database
"Highly recommended for those who want to confront the monsters under the bed of their childhood. And as always find them scary."
- From I 400 Calci (translated from Italian)
"The general tone of this film struck me, because I've seen real passion for the genre."
- From Ulteriorit Precedente (translated from Italian)
"This is a high recommend from me, very entertaining and obviously done by filmmakers who love the genre. Long live the horror anthology!"
- From McBastard's Mausoleum
"Drive in Horror Show is–WITHOUT A DOUBT–the greatest horror anthology since George Romero's Creepshow"
- From Planet Fury
"I can't stop singing its praises."
- From Rogue Cinema
"If you like horror anthologies pick this one up, there's something for everyone here."
- From Deadly Indie Drive-In
"Every now and then a movie will come out that knocks you socks off and with its originality, creativity and magnetic appeal- well Drive in HorrorShow is that flick."
- From Angry Princess
"With a solid lineup of 5 stories that range from the serious to seriously goofy, Drive-In Horrorshow is the perfect film for a Friday night. Or any night for that matter."
- From Planet of Terror
"A tasty little anthology in the vein of Creepshow or Trick 'r Treat, Drive-In Horrorshow is a nifty treat of a film, well worth checking out."
- From Radiation-Scarred Reviews
"A cut above the rest and slice of incredible independent filmmaking."
- From Horrornews.net
"One of the most entertaining horror anthologies I have seen in a while."
- From KillingBoxx
"The horror world is a fickle beast but Drive-In Horror Show manages to walk the lines of the subgenres without missing a beat. It's appeal reaches to horror fans of all types."
-Bill Fulkerson from Outside The Cinema
"Celebrates the long-lost beauty of the drive-in theater and all its bloody glory."
- From Basement Screams
"A slick five tale anthology film that was independently made and a reminder of cool shit we used to see on late night TV when we were kids."
- From Gross Movie Reviews
"A good throw back to the late night creature feature."
- From Cinema Fromage
"Top notch effects that invoke fear and comedy at the same time. I really really like this movie."
- Podcast at Movie Fan House
"Fantastic."
-Podcast at Horrorstuff
Other Press:
"The horror! But that's what he seeks."
- The Boston Globe talks with the filmmakers
"What motivated you and Michael Neel to make the transition from candid interviews and political documentaries to ghoulish gore horror?"
- Pamela Torres at Punk Globe interviews DIHS producer Greg Ansin
"Wowzers! That really sounds like some good shit!"
- Arrow In The Head is psyched for the release of DIHS