(Blog Home)
by Michael Neel
June 20th, 2010 marks the 35th anniversary of the release of the movie JAWS. This post is part of Radiation-Scarred Review's week-long 2010 SHARKATHALON, which celebrates this pop culture milestone with blog posts around the web.
---
June 18, 2010
A world without Jaws
"Jaws" is one of the most beloved films in history. You can go any beach in the world and start singing the famous "duh dum" theme and people will leap out of the water, looking for Roy Scheider to keep them safe. But what if "Jaws" never existed? We would miss out on one of the greatest film experiences of all time - a tragedy to be sure. But the impact would be much greater than just missing out on a great movie - the absence of this film would have a horrific trickle-down effect that would change the course of movies forever.
Let's imagine what the world would be like if "Jaws" had never been made. Try not to get too scared…
Summer blockbusters wouldn't exist
"Jaws" set the blueprint for the summer popcorn flick, and studios realized that they could make big bucks just like their toothy grandaddy. There would be no "Indiana Jones", no "Star Wars", no "Terminator", no "Transformers 2", no "Catwoman", no "Batman and Robin"…hmmm, maybe there would be a silver lining here...
Stephen Spielberg wouldn't be the Hollywood Hit Machine that we know and love
"Jaws" launched his career. It's success allowed him to have bigger budgets and more ambitious projects. If "Jaws "had failed, there would be no "Saving Private Ryan", "ET", "Jurassic Park", or "Schindler's List". He's had some failures which wouldn't be missed ("Hook", "1941") but so many of his films are so good that I can't imagine life without them. In a world without "Jaws", Spielberg would probably be making wedding videos.
No Jaws Knock-Offs
Say goodbye to "Deep Blue Sea", "Kingdom of The Spiders", "Grizzly", "Orca" (the master assassin (link to blog)), or any other "Mother Nature Strikes Back Movie". None of these are as good as "Jaws", but many of them are fun films. Now you might be saying, "So what? Why should I care about a bunch of B-Movies when the summer blockbuster and Stephen Spielberg are in danger?" There is one very big reason why the loss of "Jaws"-inspired Mother Nature Strikes Back Movies would have a catastrophic effect on hollywood moviemaking. It can all be summed up in one word:
Piranha
My favorite of the Mother Nature Strikes Back Movies, "Piranha" (1978) is a fantastic "Jaws" parody full of blood, guts, humor, andÉpiranhas (duh). And for whatever reason - fate, destiny, or dumb luck - some of the most influential people in Hollywood worked on this film. This was the debut for many of these people, and gave them their first stepping stone to a long career. Some others had done a few movies, but when you're starting out in film it's important to keep working. Without "Piranha", you never know if they would have been able to pay their bills or keep their heads above water. Consider a world without these people:

Rob Bottin - Special FX (His first film)
He created Robocop's robo-suit, won an Oscar for "Total Recall", and sacrificed his health for his brilliant work in "The Thing" (he worked straight for a year and had to be hospitalized).

Chris Walas - Special FX (His first film)
Walas had a huge impact on the world of special FX. His work on "Gremlins", "Arachnophobia", "Enemy Mine", and the dragon in "Dragonslayer" is top notch. His contribution to the world of animatronic puppetry (robotics combined with latex, used in "E.T." and "Jurassic Park") was immense, and he was recognized with an Oscar for his incredible work on the remake of "The Fly" (1986)

Peter Kuran and Phil Tippett - Special FX (Their third film)
These guys are famous for their optical effects work in the "Star Wars" films (Tippett is responsible for the famous "AT AT Walker" Scene in "Empire Strikes Back"). Tippett worked at George Lucas' Industrial Light and Magic and Kuran has over 70 movies on his resume.

Joe Dante - Director (His first film)
He went on to direct "The Howling", "Amazon Women on the Moon,", "The 'Burbs", and "Gremlins", among others. "Gremlins" was, appropriately enough, produced by Speilberg - yet another reasons that the would not have existed (if that makes any sense).
John Sayles - Screenwriter (His first film)
This would explain why "Piranha" has one of the best scripts of any Mother Nature Strikes Back Movie. The acclaimed screenwriter subsequently wrote and directed "Lone Star", "Brother From Another Planet", "The Secret of Roan Inish", "Return of the Secaucus Seven", and he directed the music video for "Born in the USA".

Mark Goldblatt - Editor (His first film)
He's cut some great action films: "Terminator 1 & 2", "Rambo: First Blood part 2", and "Starship Troopers".

But there is one person connected to this film that is more influential than any one of the artists listed above:
James Cameron - Director of "Piranha 2" (His first film)
No "Piranha", no "Piranha 2", no James Cameron. Love him or hate him, Cameron is one of the most important figures in filmmaking history. In case you've been living in a cave for the last thirty years, let me break it down for you.
His blockbuster hits: "Titanic", "Aliens", "True Lies", "Terminator 1 & 2", and a little indie film that came out in late 2009. It's kind of like "Dances With Wolves" in space - maybe you've heard of it. Even if you don't like his films, his contribution to effects and filmmaking has been immeasurable. The awe-inspiring digital effects of "The Abyss" and "Terminator 2" changed how Hollywood creates movie magic ("T2" won a deserved Oscar for it's effects). "Titanic" broke new ground with unprecedented moving sets that could be lowered into and out of the water at will. And "Avatar" set a new standard for digital performance capture and 3D filmmaking, and will undoubtedly change how people make movies. Need I say more?
Yes, a world without "Jaws" would be a boring world indeed. So many of our beloved films would have never happened, and we'd be stuck watching "The Postman" and "From Justin to Kelly." Thank goodness that "Jaws" was made. Or "Avatar" might have looked something like this:
---
June 15, 2010
Orca: Master Assassin
SPOILERS ABOUND

Sharks get a lot of press as super-killers, but killer whales give them a run for their money. Don't believe me? Then you clearly haven't seen 1977's "Orca". I present to you five reasons why the killer whale is more than just the star of an infamous "Jaws" rip-off: he is the smartest, most brutal killer animal in the world.

1. Killer whales can beat up a shark
Yup, it's true. In the opening scene of "Orca", a ferocious great white shark hunts some unsuspecting divers. He's in the mood to look menacing and eat a human, all while enjoying a tense soundtrack. Then POW! Out of nowhere, a Hero Orca kills the shark and saves the human. Next time you're attacked by a great white shark, you'd better hope there's an Orca near by. But cross an Orca and you're in deep trouble. Most humans don't realize that:

2. Killer whales hold a grudge.
If you treat a killer whale well, they will watch out for you in the open ocean. They're your pal beneath the waves. But cross an Orca and you've made a powerful enemy. Richard Harris, AKA Dumbledore from Harry Potter 1 & 2, finds this out the hard way when he kills Hero Orca's spouse and unborn child, sending Hero Orca into a revenged-filled frenzy. Hero Orca swears to kill Dumbledore if it takes him until the end of the movie. There's nowhere Dumbledore can hide, because:

3. Killer whales will stalk you.
But wait? Can't Dumbly just walk on to the nearest land mass and hide? Nope. You see, killer whales have an uncanny ability to stalk you from the water, whether they can see you or not. What's worse, they're not some run-of-the mill stalker. Oh no, killer whales are much too smart for that. Case in point: Hero Orca knows that Mr D needs to go back into the water to support his lifestyle of long-shoring and magic. To drive the point home, Hero Orca destroys every other boat in the port, leaving only Dumbly's vessel intact. Hero Orca knows that the angry fisherman will force Mr D to confront the Orca in the open ocean so they can build new boats and fish in peace. But Mr D isn't convinced. He stays in his house, safe from Hero Orca. Or so he thinks. Too bad he didn't know that:

4. Killer whales can destroy your house
Dumbledore loves to kick back after a hard day's work - don't we all? He'll light a fire in his cozy house, drink whiskey and practice a new spell (for making more whiskey). Bad idea, Mr D. One minute your house is safe and the next minute Hero Orca bursts through your floor and chews off Bo Derek's leg. Dumbly thought his wooden house would stand up to an Orca attack, but he was wrong. Wood, brick, steel - It doesn't matter what you use, the Orca is getting in one way or another. Why? Because:

5 Killer whales know chemistry
Bet you didn't see that one coming. Most people don't - and then they find themselves at the mercy of the ocean's master chemist. How did killer whales learn these incredible skills? No one knows. Perhaps they were taught by the Lizard Chemists in Frogs (1972). Those Lizard Chemists (as opposed to the multitude of other ones) killed an hapless victim by knocking over several bottles of chemicals and asphyxiating the poor guy. Clearly they knew the proper mixture from years of dedication to the craft. Hero Orca is much more direct. He breaks a gas line, knocks a kerosene lamp into a nearby building, and blows up a pier. If he did, in fact, learn his talents from the Lizard Chemists, he did his masters proud.
There you have it: rock-solid proof that killer whales are truly the sea's most deadly assassins. So the next time you consider harming a killer whale and/or his family, think twice. You'll be glad you did
---
June 14, 2010
Sharks on Vacation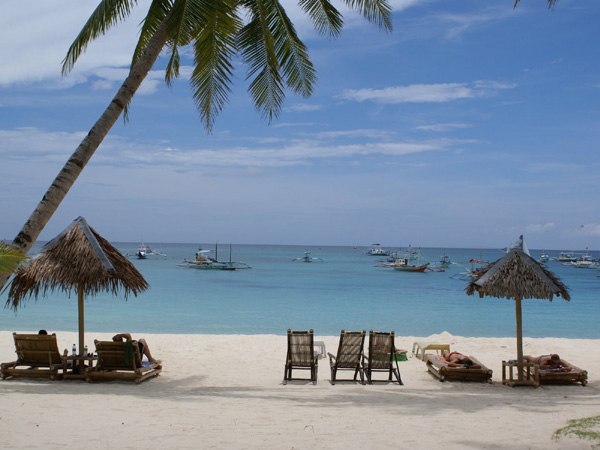 Jaws was wildly popular with moviegoers, but what do other sharks think of their big-screen blockbuster brother?
Judging from subsequent shark movies, one thing is clear: sharks love to go on vacation. Of course this started with the original Jaws, who summered on lovely Martha's Vineyard. It was so much fun that Jaws Too returned to the coast of Massachusetts three years later. Jaws the Third took a trip to Sea World, and Jaws IV took his revenge on holiday in Bermuda. And they didn't stop there. Sharks have now traveled to Venice, the Mediterranean, and even Spring Break. Clearly, sharks crave some good R&R as much as us landlubbing humans.
Unfortunately for the sharks, they aren't welcome at any of these fine vacation spots. Those poor sharks - all they want to do is relax, drink some bloody marys, ride the surf, and have a few snacks. Leave it to those pesky humans to go ahead and kill them instead.
Perhaps some day a shark can go on vacation and not end up fried, harpooned, or blown up. And sharks will finally get to spread their fins and catch some rays, without a care in the world.


What they are saying about the Drive-In Horrorshow....
"10 out of 10"
- From Infernal Dreams
"Drive-In Horrorshow delivers a visual feast of blood splatter and clever storytelling."
- From Fangoria
"Drive-In Horrorshow takes the anthology and juices it fully with five unique stories that range from clever comedy to dark body horror."
- From Deadly Doll's House of Horror Nonsense
"A well made anthology of short films."
- Zombie Movie Database
"Highly recommended for those who want to confront the monsters under the bed of their childhood. And as always find them scary."
- From I 400 Calci (translated from Italian)
"The general tone of this film struck me, because I've seen real passion for the genre."
- From Ulteriorit Precedente (translated from Italian)
"This is a high recommend from me, very entertaining and obviously done by filmmakers who love the genre. Long live the horror anthology!"
- From McBastard's Mausoleum
"Drive in Horror Show is–WITHOUT A DOUBT–the greatest horror anthology since George Romero's Creepshow"
- From Planet Fury
"I can't stop singing its praises."
- From Rogue Cinema
"If you like horror anthologies pick this one up, there's something for everyone here."
- From Deadly Indie Drive-In
"Every now and then a movie will come out that knocks you socks off and with its originality, creativity and magnetic appeal- well Drive in HorrorShow is that flick."
- From Angry Princess
"With a solid lineup of 5 stories that range from the serious to seriously goofy, Drive-In Horrorshow is the perfect film for a Friday night. Or any night for that matter."
- From Planet of Terror
"A tasty little anthology in the vein of Creepshow or Trick 'r Treat, Drive-In Horrorshow is a nifty treat of a film, well worth checking out."
- From Radiation-Scarred Reviews
"A cut above the rest and slice of incredible independent filmmaking."
- From Horrornews.net
"One of the most entertaining horror anthologies I have seen in a while."
- From KillingBoxx
"The horror world is a fickle beast but Drive-In Horror Show manages to walk the lines of the subgenres without missing a beat. It's appeal reaches to horror fans of all types."
-Bill Fulkerson from Outside The Cinema
"Celebrates the long-lost beauty of the drive-in theater and all its bloody glory."
- From Basement Screams
"A slick five tale anthology film that was independently made and a reminder of cool shit we used to see on late night TV when we were kids."
- From Gross Movie Reviews
"A good throw back to the late night creature feature."
- From Cinema Fromage
"Top notch effects that invoke fear and comedy at the same time. I really really like this movie."
- Podcast at Movie Fan House
"Fantastic."
-Podcast at Horrorstuff
Other Press:
"The horror! But that's what he seeks."
- The Boston Globe talks with the filmmakers
"What motivated you and Michael Neel to make the transition from candid interviews and political documentaries to ghoulish gore horror?"
- Pamela Torres at Punk Globe interviews DIHS producer Greg Ansin
"Wowzers! That really sounds like some good shit!"
- Arrow In The Head is psyched for the release of DIHS