Writing Exercises - Where to start - (Resources Page)
by Michael Neel & Greg Ansin
First off, don't worry about writing something that has been done before, or something that seems stupid. Most ideas have been done before, and if you think like this you will never get anything written. Sometimes you can be your own worst critic! If an idea appeals to you, write it and see where it goes. In the end, it will be unique because you will be telling it.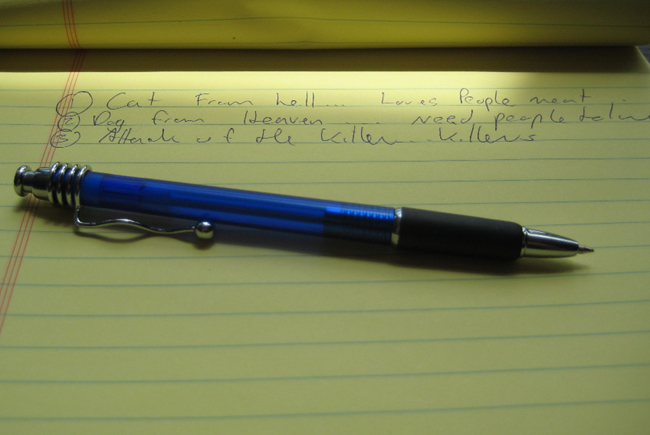 Make time to write. The story has to get on the page.
Make time to write. Set aside fifteen minutes every day. A hour if possible. Find a place that works for you to write in. If you need quiet, find it. If you like blasting music, do it. Whatever works for you.
Here are some starting points that we have used in our screenwriting:
Step 1 – Write one- or two-sentence ideas for stories. Example: "There is something in the basement freezer that dad doesn't want us to touch."
Or "A monster lives under little Timmy's bed. The monster wants Timmy to kill his family.He just might."
Sorry for the dark examples but we are horror filmmakers!
Write a whole page of these. Don't think – just write them. If the idea is stupid write it anyway and move on to the next idea. You never know which idea is the one that will spark a great story.
We have pages and pages of one- or two-sentence ideas, and many of them turned into scripts we used "Drive-In Horrorshow".
When you are finished, look at your page of ideas. Do any catch your interest? If so, then you are ready to expand them into a full story.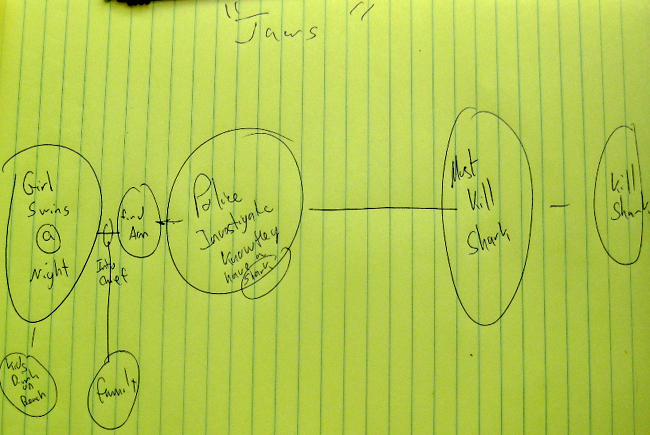 Map out your story. See it on the page.
Step 2 - It is time to map out your story. We make a flow tree or time line for each story. We write the Big Events in big bubbles and then fill in the scenes in between. Big Events are what happens in the story – for example, the Big Events in "Jaws" are: "Girl swims at night, attacked by shark" "police chief investigates know they have a killer shark" "chief know he must kill shark" etc.
Once you have finished your flow tree/time line you need to make sure your story fits in a three-act structure. Screenwriting books and websites are filled with the details of a three-act structure, but the basics are: Act One (setup), Act Two (confrontation), Act Three (resolution). It doesn't matter how short your film is, it should follow this formula.
For example: Act One (setup) – A child wants a toy. Act Two (confrontation) – The child tries to get the toy, but no matter what he does he can't get it. Act Three (resolution) – The child finally gets the toy (or doesn't). This story could be told in two minutes or nintey, but the structure is the same.
Once we have a flow tree or time line, we start writing some of the action and dialogue in each scene. It often helps us to write the script in sequence, so the characters seem to grow as we write. This brings the story to life – characters have a name, a look, and a voice. At this point, the story should be filling in and you should feel the direction the story is moving in. Maybe it goes off in new directions, which is fine – as long as you keep to the three-act structure, and the new directions make logical sense.
A personal note on writing: we prefer to keep our stories simple – like "man in the woods who likes to kill people". Then we focus on the characters. When you do this, you can focus on bringing the characters to life and the details of the story just happen. We find that films, especially horror films, are often best when they take a simple story and tell it well. Think about slasher classics like "Halloween" or "Texas Chainsaw Massacre" - the stories and structure are very simple and clear. Its the characters and details that bring them to life.
What if I get writers block? What do I do?
Take a walk. Go to a coffee shop. Watch bad cable news station. People watch. Look at some one in the crowd, if you hear part of their cell phone call, start writing it. Once they are gone, keep writing it. A story on the news can spark an idea. Use that moment in time as a jumping off point. Finish the story. Real life is stranger than any story we could write and it is great idea factory.
If you are still stuck, show the writing to someone you trust. Honest comments and critique are important. You can be the worst judge of your work.
Lastly, if you still have block, let it go for a few days. Remember to keep a pad of paper and pen by your bed because that brilliant idea you have late at night laying in bed will not be there in the morning. So if there is a pad by your bed you can write it down.
These are just a few writing exercises that you can use, but there are many more out there that can help you. Screenwriting books are full of them. Find something that works for you and use it!
Good luck!





What they are saying about the Drive-In Horrorshow....
"10 out of 10"
- From Infernal Dreams
"Drive-In Horrorshow delivers a visual feast of blood splatter and clever storytelling."
- From Fangoria
"Drive-In Horrorshow takes the anthology and juices it fully with five unique stories that range from clever comedy to dark body horror."
- From Deadly Doll's House of Horror Nonsense
"A well made anthology of short films."
- Zombie Movie Database
"Highly recommended for those who want to confront the monsters under the bed of their childhood. And as always find them scary."
- From I 400 Calci (translated from Italian)
"The general tone of this film struck me, because I've seen real passion for the genre."
- From Ulteriorit Precedente (translated from Italian)
"This is a high recommend from me, very entertaining and obviously done by filmmakers who love the genre. Long live the horror anthology!"
- From McBastard's Mausoleum
"Drive in Horror Show is–WITHOUT A DOUBT–the greatest horror anthology since George Romero's Creepshow"
- From Planet Fury
"I can't stop singing its praises."
- From Rogue Cinema
"If you like horror anthologies pick this one up, there's something for everyone here."
- From Deadly Indie Drive-In
"Every now and then a movie will come out that knocks you socks off and with its originality, creativity and magnetic appeal- well Drive in HorrorShow is that flick."
- From Angry Princess
"With a solid lineup of 5 stories that range from the serious to seriously goofy, Drive-In Horrorshow is the perfect film for a Friday night. Or any night for that matter."
- From Planet of Terror
"A tasty little anthology in the vein of Creepshow or Trick 'r Treat, Drive-In Horrorshow is a nifty treat of a film, well worth checking out."
- From Radiation-Scarred Reviews
"A cut above the rest and slice of incredible independent filmmaking."
- From Horrornews.net
"One of the most entertaining horror anthologies I have seen in a while."
- From KillingBoxx
"The horror world is a fickle beast but Drive-In Horror Show manages to walk the lines of the subgenres without missing a beat. It's appeal reaches to horror fans of all types."
-Bill Fulkerson from Outside The Cinema
"Celebrates the long-lost beauty of the drive-in theater and all its bloody glory."
- From Basement Screams
"A slick five tale anthology film that was independently made and a reminder of cool shit we used to see on late night TV when we were kids."
- From Gross Movie Reviews
"A good throw back to the late night creature feature."
- From Cinema Fromage
"Top notch effects that invoke fear and comedy at the same time. I really really like this movie."
- Podcast at Movie Fan House
"Fantastic."
-Podcast at Horrorstuff
Other Press:
"The horror! But that's what he seeks."
- The Boston Globe talks with the filmmakers
"What motivated you and Michael Neel to make the transition from candid interviews and political documentaries to ghoulish gore horror?"
- Pamela Torres at Punk Globe interviews DIHS producer Greg Ansin
"Wowzers! That really sounds like some good shit!"
- Arrow In The Head is psyched for the release of DIHS