Guest Blogger (blog home)
DIHS - Drive-In Horrorshow's Soundtrack
by Anthony J. Resta




Anthony J. Resta on his role as music supervisor for the film "Drive In Horrorshow".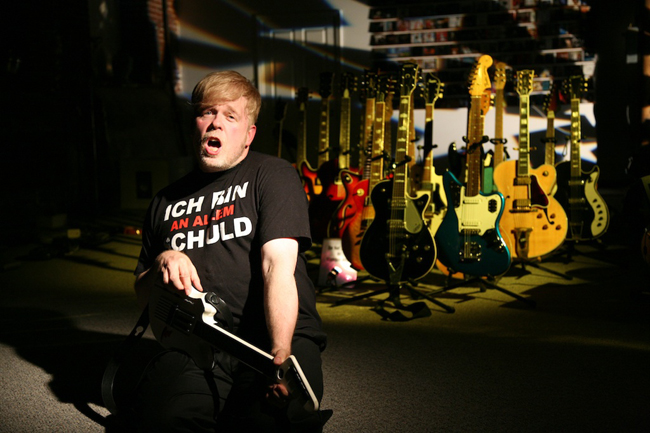 Ajax Ray O'Vaque's video for "Love is a Twisted Melancholy Disease."

I began my transition from record producer to music supervisor in an interesting and unusual way. It began with a phone call from "Drive-in Horrorshow" producer Greg Ansin. Greg had heard a song written and performed by my alter ego Ajax Ray O'vaque and the song got stuck in his head. He said, "Ajax, we are making a film and we are interested in not only using your song, but also having you help supervise the process of choosing artists and songs for the film and a soundtrack." I had worked on quite a bit of music for film and TV as a composer at Bopnique - some past projects include the films "The Saint", "Squeeze", "Once You Meet a Stranger", "Love Actually", "Smart People" and the TV shows "Sunset Beach", "Providence", "Melrose Place", "Baywatch", and a bunch of soap operas. But I had never worked on a project that involved putting an entire soundtrack together. Honestly, I was a little intimidated by the offer. After our initial meetings we started listening to tons of submissions from songwriters and bands and then I started to get it. This wasn't all that different from putting a record together in Pre-Production. The main difference is that the artist was The Film and the songs were to be a collection of artists performing songs, rather than one artist performing a collection of songs.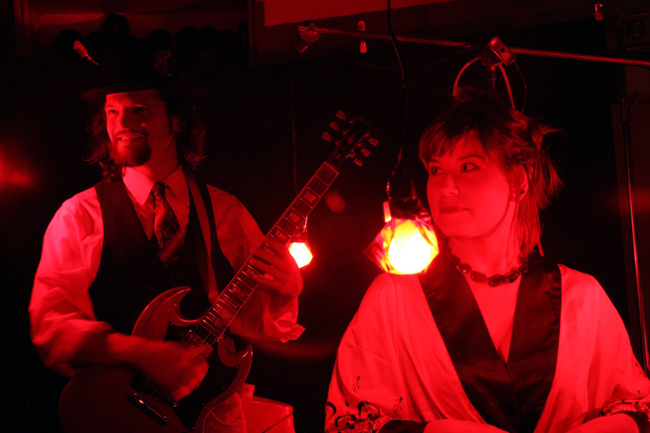 Trouble On The Airwaves's video for "Bombshell".

Easy, right? Not exactly. There are thousands of amazing and talented people out there and trying to pick music that fits the targeted demographic of an audience for a film was a brand new world to me. We rolled up our sleeves and started communicating through email attachments and phone calls. We had many listening parties.
Those were probably my favorite part as I love a martini with the best of them. We searched the Bopnique catalogue of nearly 3000 songs for things that thematically aligned or magically malalagined to create a body of songs for the soundtrack. I worked with Director Michael Neel, Producer Greg Ansin, and Promotions Manager Aisha Singleton to pick the tracks. Four Bopnique artist songs ended up being used. One of them was mine, the song "Love is a Twisted Melancholy Disease" and I think the reason that one made it into the lineup was partially due to the fact that internet celebrity Sarah Morrison took a shining to it during a PR interview we had with her (Sarah is an internet Celeb, PR/marketing person and blogger extrordinaire). That and the Horrorshow crew really enjoyed the song. The second Bopnique artist chosen was John Courduvelis, the lead singer of the band Common Thrill. We chose a song I cowrote and performed with the band in the studio. I also suggested a cover of "Heart Full of Soul", a blast from the past by Sleight of Hand. I worked with Sleight of Hand in the 90s, and their version of "Heart Full of Soul" is a funky remix of the Yardbirds' classic morphed into a timeless dance track. Finally, I mixed "Bombshell" by Trouble on the Airwaves - a 70s-era retro mix. Quick, dirty, and raw.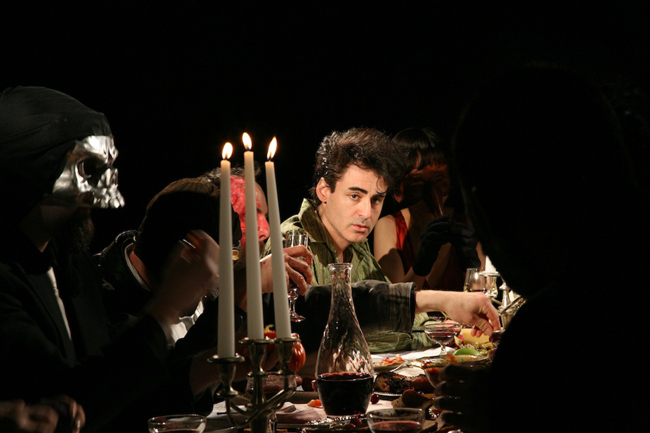 John Courduvelis and Common Thrill's video for "Hollywood Nights".

I think we ended up with a really fun diverse set of songs and videos and the soundtrack is now available on vinyl and cd and for digital download. Do us all a favor and buy the music! Keep the industry alive for short money. Or go get it free on limewire and infect your entire computer. Either way it's been a fun wild ride that I am very excited to be a part of. Over the next couple of months the promotion for the film starts to kick into overdrive, so help us spread the word, ok? Below are widgets and info for you to help us spread the word virally. Don't just sit there. Dive in. Be a part of the post indie movement of quality music from quality artists who care. See you on the dark side of the moon.
ajr


What they are saying about the Drive-In Horrorshow....
"10 out of 10"
- From Infernal Dreams
"Drive-In Horrorshow delivers a visual feast of blood splatter and clever storytelling."
- From Fangoria
"Drive-In Horrorshow takes the anthology and juices it fully with five unique stories that range from clever comedy to dark body horror."
- From Deadly Doll's House of Horror Nonsense
"A well made anthology of short films."
- Zombie Movie Database
"Highly recommended for those who want to confront the monsters under the bed of their childhood. And as always find them scary."
- From I 400 Calci (translated from Italian)
"The general tone of this film struck me, because I've seen real passion for the genre."
- From Ulteriorit Precedente (translated from Italian)
"This is a high recommend from me, very entertaining and obviously done by filmmakers who love the genre. Long live the horror anthology!"
- From McBastard's Mausoleum
"Drive in Horror Show is–WITHOUT A DOUBT–the greatest horror anthology since George Romero's Creepshow"
- From Planet Fury
"I can't stop singing its praises."
- From Rogue Cinema
"If you like horror anthologies pick this one up, there's something for everyone here."
- From Deadly Indie Drive-In
"Every now and then a movie will come out that knocks you socks off and with its originality, creativity and magnetic appeal- well Drive in HorrorShow is that flick."
- From Angry Princess
"With a solid lineup of 5 stories that range from the serious to seriously goofy, Drive-In Horrorshow is the perfect film for a Friday night. Or any night for that matter."
- From Planet of Terror
"A tasty little anthology in the vein of Creepshow or Trick 'r Treat, Drive-In Horrorshow is a nifty treat of a film, well worth checking out."
- From Radiation-Scarred Reviews
"A cut above the rest and slice of incredible independent filmmaking."
- From Horrornews.net
"One of the most entertaining horror anthologies I have seen in a while."
- From KillingBoxx
"The horror world is a fickle beast but Drive-In Horror Show manages to walk the lines of the subgenres without missing a beat. It's appeal reaches to horror fans of all types."
-Bill Fulkerson from Outside The Cinema
"Celebrates the long-lost beauty of the drive-in theater and all its bloody glory."
- From Basement Screams
"A slick five tale anthology film that was independently made and a reminder of cool shit we used to see on late night TV when we were kids."
- From Gross Movie Reviews
"A good throw back to the late night creature feature."
- From Cinema Fromage
"Top notch effects that invoke fear and comedy at the same time. I really really like this movie."
- Podcast at Movie Fan House
"Fantastic."
-Podcast at Horrorstuff
Other Press:
"The horror! But that's what he seeks."
- The Boston Globe talks with the filmmakers
"What motivated you and Michael Neel to make the transition from candid interviews and political documentaries to ghoulish gore horror?"
- Pamela Torres at Punk Globe interviews DIHS producer Greg Ansin
"Wowzers! That really sounds like some good shit!"
- Arrow In The Head is psyched for the release of DIHS