Guest Horrorshow Blogger (Home)
by Eddie Duncan June 11, 2013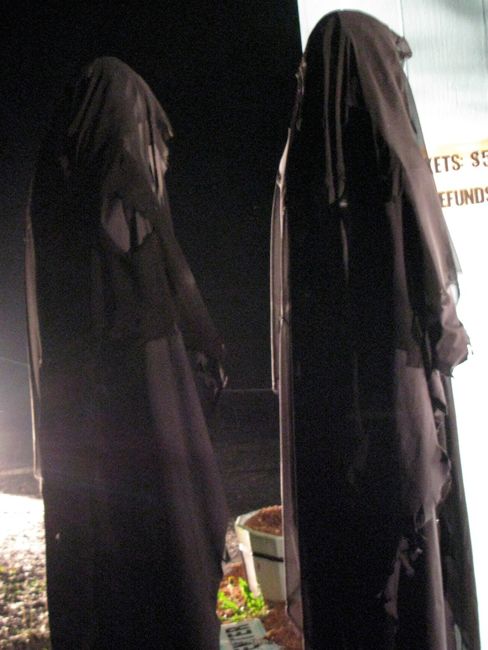 Maybe it's their curiosity. Maybe it's their uncorrupted minds. Or maybe it's their vulnerability. For one reason or another, children in horror films are prone to seeing ghosts—a talent their adult counterparts typically do not share (at least not at first).
Although creepy kids have become more of a horror movie cliché, a few of these ghost-whispering, genre-defining youngsters have made our spines chill a few degrees cooler than their peers over the years.
Let's take a look at some notable child ghost-seers in horror.
**POTENTIAL SPOILERS AHEAD**
Dalton Lambert
Insidious
We have our parents to thank for the gifts we are bestowed at birth. Certainly, Dalton could have done without the "gift" of astral projection, inherited from his father.
His ability allowed him to temporarily leave his body and enter the ghoul-inhabited world known as "The Further", where he becomes trapped. In true Poltergeist form (see below), it's up to the family to venture into the scary world and bring him home.
Pro tip: don't leave your body when ghosts and demons are trying to possess it.
You can watch Insidious on Netflix now, or on demand with many cable providers, before the sequel comes out later this year.
Jake Witzky
Stir of Echoes
If a child begins talking in a deep, unsettling voice that's not their own, it's one of two things:
1) puberty
2) they have become the conduit for a restless soul unable to peacefully move on to spirit world.
Unfortunately for little Jake, it was the latter. But he didn't seem to care. By the time Kevin Bacon started seeing the girl ghost, Jake had already made her a regular play date.
Danny Torrance
The Shining
Poor, innocent Danny. All he wanted to do was ride his big-wheel through the hallways of an empty hotel in peace. Never did he think he'd be having premonitions or seeing ghosts of hacked-up twins girls.
Danny became so disturbed he actually began talking to himself in a strange voice and yelling out the famous "REDRUM" line repeatedly. But hey, he fared better than his father who didn't handle the ghost-situation quite as well.
Carol Anne Freeling
Poltergeist
Carol Anne was a bright girl, except when it came to ghosts. She just had to go talking to them—an act that resulted in her kidnap by the ghosts and a rescue mission through a spirit-portal to recover her.
Though Heather O'Rourke, the actress who played the girl, tragically died at only 12 years old, her famous "They're here" quote will forever live on in horror movie infamy.
Though not as good as the original, Poltergeist 2 and 3, are available to stream on Netflix.
Cole Sear
The Sixth Sense
If any kid has a hard time keeping ghosts out of his peripheral it's Cole Sear. Unlike the other tykes who find it difficult to articulate the troubling visions they see, Cole flat out tells his psychologist, Bruce Willis, his affliction. That wasn't so hard, was it?
Fortunately, Cole learns he can actually help the ghosts he sees, taking it upon himself to help them find peace.
Next time you hear a child say they've seen a ghost or have a new invisible friend, remember these characters. Though they have wild imaginations, there may be more there than meets your (adult) eye.
What other children of note in horror movie history have been able to see ghosts and ghouls? Do you remember seeing any ghosts as a child?
AUTHOR: Eddie Duncan
BIO: Eddie Duncan is a TV and entertainment blogger for cable.tv. Look to him for the scoop on hit horror movies and TV shows, how-to's, and more. You can follow Eddie@Eddie20Ford.





What they are saying about the Drive-In Horrorshow....
"10 out of 10"
- From Infernal Dreams
"Drive-In Horrorshow delivers a visual feast of blood splatter and clever storytelling."
- From Fangoria
"Drive-In Horrorshow takes the anthology and juices it fully with five unique stories that range from clever comedy to dark body horror."
- From Deadly Doll's House of Horror Nonsense
"A well made anthology of short films."
- Zombie Movie Database
"Highly recommended for those who want to confront the monsters under the bed of their childhood. And as always find them scary."
- From I 400 Calci (translated from Italian)
"The general tone of this film struck me, because I've seen real passion for the genre."
- From Ulteriorit Precedente (translated from Italian)
"This is a high recommend from me, very entertaining and obviously done by filmmakers who love the genre. Long live the horror anthology!"
- From McBastard's Mausoleum
"Drive in Horror Show is–WITHOUT A DOUBT–the greatest horror anthology since George Romero's Creepshow"
- From Planet Fury
"I can't stop singing its praises."
- From Rogue Cinema
"If you like horror anthologies pick this one up, there's something for everyone here."
- From Deadly Indie Drive-In
"Every now and then a movie will come out that knocks you socks off and with its originality, creativity and magnetic appeal- well Drive in HorrorShow is that flick."
- From Angry Princess
"With a solid lineup of 5 stories that range from the serious to seriously goofy, Drive-In Horrorshow is the perfect film for a Friday night. Or any night for that matter."
- From Planet of Terror
"A tasty little anthology in the vein of Creepshow or Trick 'r Treat, Drive-In Horrorshow is a nifty treat of a film, well worth checking out."
- From Radiation-Scarred Reviews
"A cut above the rest and slice of incredible independent filmmaking."
- From Horrornews.net
"One of the most entertaining horror anthologies I have seen in a while."
- From KillingBoxx
"The horror world is a fickle beast but Drive-In Horror Show manages to walk the lines of the subgenres without missing a beat. It's appeal reaches to horror fans of all types."
-Bill Fulkerson from Outside The Cinema
"Celebrates the long-lost beauty of the drive-in theater and all its bloody glory."
- From Basement Screams
"A slick five tale anthology film that was independently made and a reminder of cool shit we used to see on late night TV when we were kids."
- From Gross Movie Reviews
"A good throw back to the late night creature feature."
- From Cinema Fromage
"Top notch effects that invoke fear and comedy at the same time. I really really like this movie."
- Podcast at Movie Fan House
"Fantastic."
-Podcast at Horrorstuff
Other Press:
"The horror! But that's what he seeks."
- The Boston Globe talks with the filmmakers
"What motivated you and Michael Neel to make the transition from candid interviews and political documentaries to ghoulish gore horror?"
- Pamela Torres at Punk Globe interviews DIHS producer Greg Ansin
"Wowzers! That really sounds like some good shit!"
- Arrow In The Head is psyched for the release of DIHS