(Blog Home)
by Michael Neel & Greg Ansin
Oct. 7, 2009
Last weekend, Drive-In Horrorshow had the privilege of being screened at the Dark Carnival Film Festival in Bloomington, Indiana.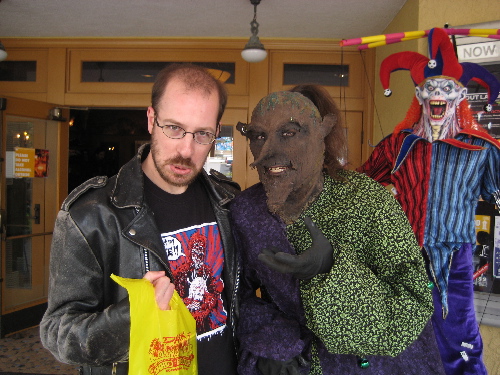 Mike and Woody, one of the Monsters of Ceremonies.
Movie Maker Magazine called Dark Carnival one of the top 25 film festivals worth the entry fee, and we can see why. The organizers of the event bent over backward to make us feel welcome and scared us to our bones. They even had us on stage before our screening and gave us "The Hills Have Eyes" star Michael Berryman as an award! We couldn't have been more honored.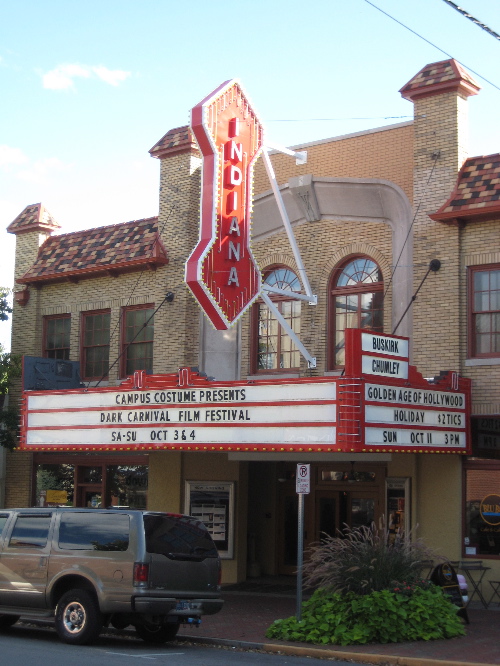 The beautiful Buskirk-Chumley Theater.
The films did not disappoint. It was a strong line up, stuffed to the brim with high-quality horror. If you like horror films, check out their schedule and watch all the of the films that were shown.
Here are some of our favorites:
Shellter - As filmmakers we watched this film with awe. Totally scary, gruesome, and disturbing. Some parts made us feel dirty. If you like uncomfortable, brutal horror then this is a must see. Website
Isle of the Damned - An instant classic for cannibal film lovers. You will be laughing and screaming at the same time! Banned in 492 countries! Website
Sex Doll She-Bitch - An incredibly funny short. Very over the top - this one must be seen to be believed. Great performances and fantastic attention to detail.
Thirsty - A fantastically hilarious short that shows how a simple concept can be done incredibly well. Featuring the beautiful Tiffany Shepis, who was one of the honored horror stars of the weekend.
Blood Shed - A twisted short full of drug use, excessive gore, puppets, and fishing. Lots of fun. Website
Mantra - A polished feature film that really messes with your mind, and has a great balance of horror and comedy. A beautifully filmed movie with great attention to detail. Website
aQue ad lavandum - A slick short film. Stylistically dark with a monster that is straight from the depths of hell. Simple yet captivating.
Sinkhole - Incredibly well acted and dripping with atmosphere. This film shows how a great location can make your movie. Website
The Landlord - A funny, well acted feature. Full of dark humor and some very memorable performances.
Seance - A short from the Czech Republic. Dark and scary, with incredible costumes, locations, cinematography and sound. Classic. Website
Side Effect - A great short film with an incredible ending. Drugs are bad...very bad. Nothing held back here. Website
Come - This one is in the WTF category. Lots of genital mutilations, mixed with a healthy dose of H.P. Lovecraft and flat-out strange content. If you like hardcore horror that really pushes the envelope, this film is for you.
On Sunday afternoon George Bonilla of ZP International gave a great lecture on indie film making. Many good ideas, from legal advice to lighting and audio, as well as post production and sales.
Last but not least, Dark Carnival gave out their first Hall of Fame Award to Alan Rowe Kelly. Alan is a director, producer, and actor who has been working in indie horror for years. We were lucky to see him act in two films at the festival, and he was wonderful in both of them.
We'd like to thank all the great people at the Dark Carnival Film Festival, from the organizers and volunteers to everyone who came out to see the films. It is a great environment to watch horror films, and hopefully we will be back next year!


What they are saying about the Drive-In Horrorshow....
"10 out of 10"
- From Infernal Dreams
"Drive-In Horrorshow delivers a visual feast of blood splatter and clever storytelling."
- From Fangoria
"Drive-In Horrorshow takes the anthology and juices it fully with five unique stories that range from clever comedy to dark body horror."
- From Deadly Doll's House of Horror Nonsense
"A well made anthology of short films."
- Zombie Movie Database
"Highly recommended for those who want to confront the monsters under the bed of their childhood. And as always find them scary."
- From I 400 Calci (translated from Italian)
"The general tone of this film struck me, because I've seen real passion for the genre."
- From Ulteriorit Precedente (translated from Italian)
"This is a high recommend from me, very entertaining and obviously done by filmmakers who love the genre. Long live the horror anthology!"
- From McBastard's Mausoleum
"Drive in Horror Show is–WITHOUT A DOUBT–the greatest horror anthology since George Romero's Creepshow"
- From Planet Fury
"I can't stop singing its praises."
- From Rogue Cinema
"If you like horror anthologies pick this one up, there's something for everyone here."
- From Deadly Indie Drive-In
"Every now and then a movie will come out that knocks you socks off and with its originality, creativity and magnetic appeal- well Drive in HorrorShow is that flick."
- From Angry Princess
"With a solid lineup of 5 stories that range from the serious to seriously goofy, Drive-In Horrorshow is the perfect film for a Friday night. Or any night for that matter."
- From Planet of Terror
"A tasty little anthology in the vein of Creepshow or Trick 'r Treat, Drive-In Horrorshow is a nifty treat of a film, well worth checking out."
- From Radiation-Scarred Reviews
"A cut above the rest and slice of incredible independent filmmaking."
- From Horrornews.net
"One of the most entertaining horror anthologies I have seen in a while."
- From KillingBoxx
"The horror world is a fickle beast but Drive-In Horror Show manages to walk the lines of the subgenres without missing a beat. It's appeal reaches to horror fans of all types."
-Bill Fulkerson from Outside The Cinema
"Celebrates the long-lost beauty of the drive-in theater and all its bloody glory."
- From Basement Screams
"A slick five tale anthology film that was independently made and a reminder of cool shit we used to see on late night TV when we were kids."
- From Gross Movie Reviews
"A good throw back to the late night creature feature."
- From Cinema Fromage
"Top notch effects that invoke fear and comedy at the same time. I really really like this movie."
- Podcast at Movie Fan House
"Fantastic."
-Podcast at Horrorstuff
Other Press:
"The horror! But that's what he seeks."
- The Boston Globe talks with the filmmakers
"What motivated you and Michael Neel to make the transition from candid interviews and political documentaries to ghoulish gore horror?"
- Pamela Torres at Punk Globe interviews DIHS producer Greg Ansin
"Wowzers! That really sounds like some good shit!"
- Arrow In The Head is psyched for the release of DIHS