Guest Blogger (blog home)
DIHS - Writing music for picture
by Eric Welsh




I am a big horror movie fan, so when I was asked to write a good portion of the music for Drive In Horrorshow it was a no-brainer. I'd like to share some insight about the process.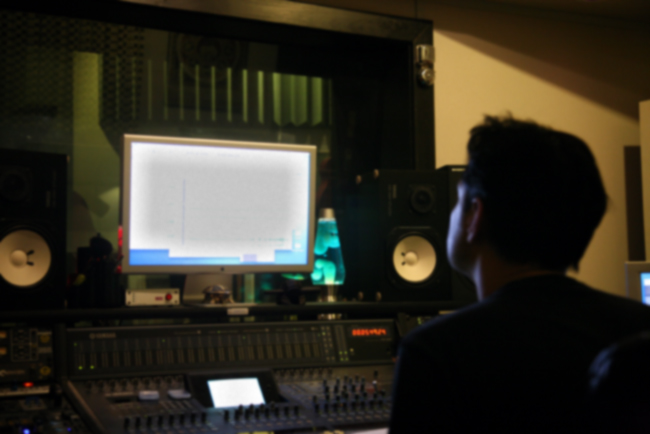 Eric is busy at work at Chill House Studios, Charlestown Ma.
To start, it was great that Greg and Mike got me involved towards the beginning of the process. Drive-In Horrorshow is an anthology of short films, which can make writing the music a challenge. When writing music for a single full length film, the music can follow melodic variations based on a main musical theme throughout the entire movie. For DIHS, I had to make sure each of the shorts had its own musical style and soundscape.
When I say soundscape, I mean that there aren't any distinguished musical melodies taking place. This soundscape style worked great for "Pig", whereas "Fall Apart" called for melodic pieces of music that returned throughout the film to help tie the piece together. For "Pig" I used a lot of the Roland RE-201 Space Echo with my synths to help create this effect.

Music from the short PIG.
Obviously, composing for film is much different than simply writing music for your own purposes, because you are working with a story. A few times I found myself creating a great musical idea for as a cue (cue = a guideline marker for a scene change) and although I felt the idea was great and emotionally moving, it just didn't fit the story. You can't force an idea into a film simply because you just wrote a killer riff (I continued working on the idea later as the basis for my own original song).
With that in mind, overbearing melodies can also ruin a scene, as the music must support the dialogue, not take away from it. A strong melodic theme can be very effective during an introduction and/or at certain key parts of the film (such as a climactic point). For "Fall Apart" we introduced the main theme at a slow tempo for the intro and then returned to this main theme later, this time played at a fast tempo with some extra instrumentation.

Midi version and recorded version.
"Fall Apart" was my favorite short to compose music for, and we used a lot of strings. Using synthesizers and MIDI, I wrote string lines for violin and cello (MIDI stands for Musical Instrument Digital Interface and it is a binary language that synthesizers, computer interfaces and software recognize as a standard platform). Greg, Mike and I all met in my studio (chillhousestudios.com) and listened to my MIDI ideas. We made some adjustments to my MIDI versions and I then printed them out as sheet music for the musicians, which is another bonus of writing music with a software program that will print out the MIDI notes from your keyboards (I am a big fan of MOTU's Digital Performer and Digidesign's Protools).
Be aware that if you are tracking parts for strings (or any instrument that you intend to print sheet music for) you need to be aware of the frequency range of the instrument. Can an Irish Bagpipe physically play a middle C? Can a Cello player comfortably play a middle C?
Getting good players is a huge factor, so once we had them in place, we double tracked both cello and violin so that it sounded as though we had a quartet. This process requires recording the string players to a "click track", which is a metronome for timing purposes. After we had a good take of the first recording pass, we then had them overdub the harmony parts I wrote. Sometimes we even went a step further and had them double both parts again on separate tracks to make the sound even more massive. Keep in mind that the players have to play very well with good timing in order to double or even triple their parts so that they sound "tight".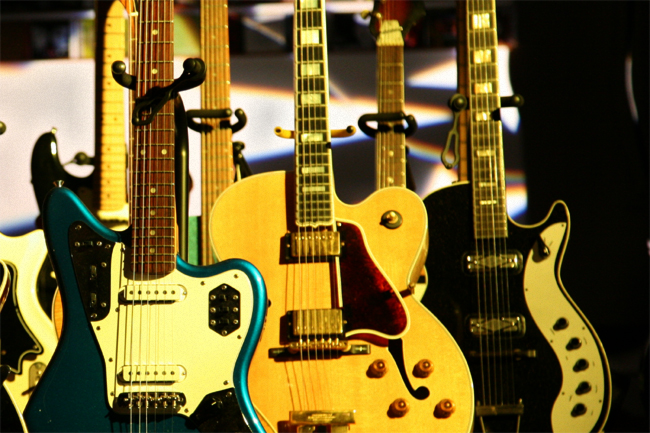 A nice collection of guitar - Anthony J. Resta.
Ideally a string quartet requires two violins, a viola and cello. As a substitute I sometimes like a single violin, a viola (a viola is larger than a violin in size and frequency is in between a violin and cello), two cellos or a cello and a double bass. We even used some of my MIDI string tracks on a musical cue or two along with the real strings to create another layer of sound for added depth.
I have to say that working with real talented musicians in the studio who are tracking the music you wrote is very rewarding.
Thats all for now. Next time I'll talk about REVERB.


What they are saying about the Drive-In Horrorshow....
"10 out of 10"
- From Infernal Dreams
"Drive-In Horrorshow delivers a visual feast of blood splatter and clever storytelling."
- From Fangoria
"Drive-In Horrorshow takes the anthology and juices it fully with five unique stories that range from clever comedy to dark body horror."
- From Deadly Doll's House of Horror Nonsense
"A well made anthology of short films."
- Zombie Movie Database
"Highly recommended for those who want to confront the monsters under the bed of their childhood. And as always find them scary."
- From I 400 Calci (translated from Italian)
"The general tone of this film struck me, because I've seen real passion for the genre."
- From Ulteriorit Precedente (translated from Italian)
"This is a high recommend from me, very entertaining and obviously done by filmmakers who love the genre. Long live the horror anthology!"
- From McBastard's Mausoleum
"Drive in Horror Show is–WITHOUT A DOUBT–the greatest horror anthology since George Romero's Creepshow"
- From Planet Fury
"I can't stop singing its praises."
- From Rogue Cinema
"If you like horror anthologies pick this one up, there's something for everyone here."
- From Deadly Indie Drive-In
"Every now and then a movie will come out that knocks you socks off and with its originality, creativity and magnetic appeal- well Drive in HorrorShow is that flick."
- From Angry Princess
"With a solid lineup of 5 stories that range from the serious to seriously goofy, Drive-In Horrorshow is the perfect film for a Friday night. Or any night for that matter."
- From Planet of Terror
"A tasty little anthology in the vein of Creepshow or Trick 'r Treat, Drive-In Horrorshow is a nifty treat of a film, well worth checking out."
- From Radiation-Scarred Reviews
"A cut above the rest and slice of incredible independent filmmaking."
- From Horrornews.net
"One of the most entertaining horror anthologies I have seen in a while."
- From KillingBoxx
"The horror world is a fickle beast but Drive-In Horror Show manages to walk the lines of the subgenres without missing a beat. It's appeal reaches to horror fans of all types."
-Bill Fulkerson from Outside The Cinema
"Celebrates the long-lost beauty of the drive-in theater and all its bloody glory."
- From Basement Screams
"A slick five tale anthology film that was independently made and a reminder of cool shit we used to see on late night TV when we were kids."
- From Gross Movie Reviews
"A good throw back to the late night creature feature."
- From Cinema Fromage
"Top notch effects that invoke fear and comedy at the same time. I really really like this movie."
- Podcast at Movie Fan House
"Fantastic."
-Podcast at Horrorstuff
Other Press:
"The horror! But that's what he seeks."
- The Boston Globe talks with the filmmakers
"What motivated you and Michael Neel to make the transition from candid interviews and political documentaries to ghoulish gore horror?"
- Pamela Torres at Punk Globe interviews DIHS producer Greg Ansin
"Wowzers! That really sounds like some good shit!"
- Arrow In The Head is psyched for the release of DIHS