Louisville, Kentucky (Home)
by Joe Lemieux aka Zombie Frank
Drive-In Horrorshow director Michael Neel and Joe Lemieux, Zombie Frank himself, were in Louisville, Kentucky for Fright Night Film Fest from June 29 to July 1. This was the first stop on our fiendish cross-country film tour, and it was a honor to have our film play alongside so many other great horror flicks at this festival. Our booth was packed for the entire weekend, and we enjoyed meeting so many of our fans and making some new ones as well.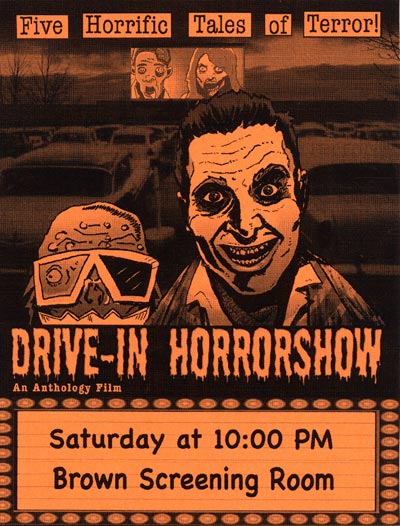 The Drive-In Horrorshow flyer for the show
Thanks to all that showed up for the screening on Saturday night - it was superb crowd. Even though it was hot as hell outside, a chill ran through the theater. This crowd really got into The Watcher - perhaps it's the summertime vibe? Or maybe the hot weather makes people think of blood, gore, and scares?
There were too many great films at the festival to mention in this blog. You'll find tons of bloody, nasty films - good for all you wonderful sickos out there.

Trailer "Beast Wishes"
Disney animator and director Frank Dietz won the best documentary award for his film "Beast Wishes". The film takes a heartfelt look at the fascinating world of Bob and Kathy Burns, an amazing couple who nurtured some of the best and most influential people in sci-fi/fantasy filmmaking, such as Joe Dante, director of The Howling and Gremlins, and Dennis Muren, an FX master for The Empire Strikes Back and Jurassic Park. This is a must-watch for any genre fan.

Trailer "The Dead Inside"
Drive-In Horrorshow director Michael Neel was thrilled that "The Dead Inside" screened at Fright Night. This is one of Michael's favorite films of 2011, and lead actress Sarah Lassez was Michael's pick for Best Actress in his 2012 Forgotten Oscars. The Dead Inside is one of the most original and creative horror films in years, and is highly recommended.

Trailer "Psycho Street"
We were delighted that the anthology horror film "Psycho Street" screened at the convention, featuring our good friends Marv Blauvelt and Alan Rowe Kelly. Marv co-wrote and co-produced the film, and Alan Rowe Kelly was fabulous as always in the segment "Hypochondriac".
Fright Night had a ton of fantastic vendors selling all sorts of wild stuff; we had to take away Zombie Frank's wallet because he was spending way too much and had to eat worms for dinner (not that he minded too much). Drive-In Graphics, run by Scott Ford, had an incredible collection of movie memorabilia from classic horror to the modern day, Carrie Garrison was selling some terrifyingly tasty treats at her Sinister Sweets booth, and Jill Van Voorst had an awesome array of horror shirts, beer cozies, coasters, and more at her LIX Online vendor booth.

Joe and Michael having some ghoulish fun at the Drive-In Horrorshow booth
Legendary mask maker Don Post, the Godfather of Halloween masks had a great display. Don Post Studios is most famous for creating rubber masks for commercial sale and use in movies, including Star Wars and Halloween film series.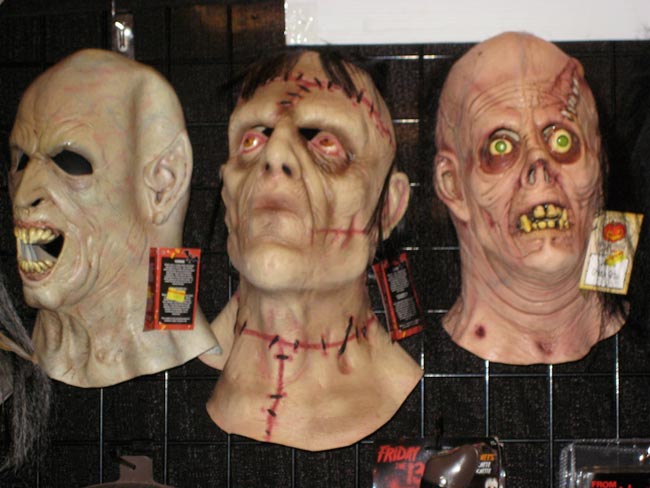 Don Post masks.
All in all it was a fantastic weekend and a great start to our Film Tour, filled with good fun, old and new friends, and people just as crazy about horror films as we are!
Next stop on the Drive-In Horrorshow Film Tour: Monster Mania on August 17-19th in Cherry Hill, NJ. See you there if you're not too scared!





What they are saying about the Drive-In Horrorshow....
"10 out of 10"
- From Infernal Dreams
"Drive-In Horrorshow delivers a visual feast of blood splatter and clever storytelling."
- From Fangoria
"Drive-In Horrorshow takes the anthology and juices it fully with five unique stories that range from clever comedy to dark body horror."
- From Deadly Doll's House of Horror Nonsense
"A well made anthology of short films."
- Zombie Movie Database
"Highly recommended for those who want to confront the monsters under the bed of their childhood. And as always find them scary."
- From I 400 Calci (translated from Italian)
"The general tone of this film struck me, because I've seen real passion for the genre."
- From Ulteriorit Precedente (translated from Italian)
"This is a high recommend from me, very entertaining and obviously done by filmmakers who love the genre. Long live the horror anthology!"
- From McBastard's Mausoleum
"Drive in Horror Show is–WITHOUT A DOUBT–the greatest horror anthology since George Romero's Creepshow"
- From Planet Fury
"I can't stop singing its praises."
- From Rogue Cinema
"If you like horror anthologies pick this one up, there's something for everyone here."
- From Deadly Indie Drive-In
"Every now and then a movie will come out that knocks you socks off and with its originality, creativity and magnetic appeal- well Drive in HorrorShow is that flick."
- From Angry Princess
"With a solid lineup of 5 stories that range from the serious to seriously goofy, Drive-In Horrorshow is the perfect film for a Friday night. Or any night for that matter."
- From Planet of Terror
"A tasty little anthology in the vein of Creepshow or Trick 'r Treat, Drive-In Horrorshow is a nifty treat of a film, well worth checking out."
- From Radiation-Scarred Reviews
"A cut above the rest and slice of incredible independent filmmaking."
- From Horrornews.net
"One of the most entertaining horror anthologies I have seen in a while."
- From KillingBoxx
"The horror world is a fickle beast but Drive-In Horror Show manages to walk the lines of the subgenres without missing a beat. It's appeal reaches to horror fans of all types."
-Bill Fulkerson from Outside The Cinema
"Celebrates the long-lost beauty of the drive-in theater and all its bloody glory."
- From Basement Screams
"A slick five tale anthology film that was independently made and a reminder of cool shit we used to see on late night TV when we were kids."
- From Gross Movie Reviews
"A good throw back to the late night creature feature."
- From Cinema Fromage
"Top notch effects that invoke fear and comedy at the same time. I really really like this movie."
- Podcast at Movie Fan House
"Fantastic."
-Podcast at Horrorstuff
Other Press:
"The horror! But that's what he seeks."
- The Boston Globe talks with the filmmakers
"What motivated you and Michael Neel to make the transition from candid interviews and political documentaries to ghoulish gore horror?"
- Pamela Torres at Punk Globe interviews DIHS producer Greg Ansin
"Wowzers! That really sounds like some good shit!"
- Arrow In The Head is psyched for the release of DIHS