Guest Horror Blog (Home)
by Kevin T. Fischer Jan 14, 2014
Do you know how to pack and prepare efficiently in the event of a zombie apocalypse? How could you? Nothing in your day-to-day grind has ever prepared you for such a thing. Mobility is one advantage any human has over the undead, which means you can't afford to be weighed down when it comes to packing.
As dopey as it sounds, a fanny pack is pretty ideal for this scenario and, listed below, are a couple of things that will fit perfectly: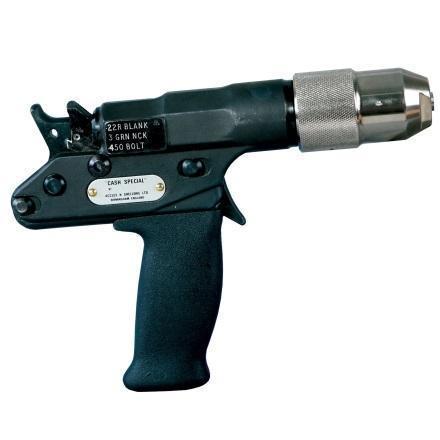 Captive bolt gun
Captive bolt gun
A captive bolt gun, or "cattle gun," is used for stunning an animal shortly before slaughter. If you've seen No Country for Old Men, you might recognize it as the weapon of choice for the hit man Chigurh. The captive bolt gun is perfect for dealing lethal damage to the brain and it's not nearly as noisy as a regular gun. The only problem is that it requires you to get up close and personal.
While it would be ideal to target the front of the skull, that leaves you in plain view. You would want to sneak in from behind and press the nozzle up to the base of the skull. Just watch out when you pull the trigger – things can get a little messy and any walker within a few feet would hear it. The captive bolt gun is ideal for picking off strays but, like a real gun, it's still a last resort.
Pocket first aid kit
Survival is the name of the game, and keeping yourself patched up is obviously very important. First aid kits come in all sizes, but for most injuries, one the size of an Altoids Tin will do nicely. The Altoids Tin method is one of the most popular because it manages to cover the fundamentals like stitching, disinfecting and binding without taking up too much space or weighing you down. If you're bitten, that's the end for you, but that doesn't mean convenient first aid kits like these are useless. With no hospitals or healthcare infrastructures, you need a way to patch yourself up from all of life's little twists and turns – kits like these give you a fighting chance.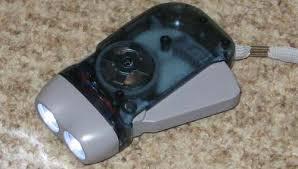 Dyno Torch
Dyno Torch
A dyno torch, or "squeeze flashlight," is a pocket-sized flashlight that fits in the pocket and stores energy in a flywheel. All you need to do is repeatedly squeeze the handle to recharge the battery. Since batteries might be hard to come by in a post-apocalyptic world, it makes sense that you'd want something self-sustaining. They come in other forms including shake types and crank-powered. If you watch a lot of movies or shows covering the zombie virus outbreak scenario, you know that conveniences we take for granted – like streetlights – are the first to go. You can't afford to stumble blindly through the dark with the walking – and silent – dead stirring about.
Multi-tool
Out in the urban wilderness, you'll encounter more than just the undead, and a firearm makes a poor tool against a chain-link fence. Multi-tools are foldable and are about the size of a credit card. They can house a number of different tools depending on the make and model, but most include a pair of needle-nose pliers, knife, file, saw and – most importantly – a can opener. When you're scavenging food, the stuff that holds up often comes in a can. Of course, the multi-tool works in more scenarios than eating and can double as a weapon against living and undead alike.
Writing implement
During most zombie apocalypses, you'll likely find yourself in a situation where the digital medium of communication is non-existent. Having writing implements of some kind are a great way to leave yourself – or other people – messages. Jotting down your thoughts and experiences can also have some very healthy benefits as well...in the unfortunate event that you're making this journey alone. Let's face it, surviving a zombie apocalypse can be a scary and lonely experience and the last thing you need is a psychotic breakdown. While writing won't make you immune to PTSD, it can help you clear your mind and keep a cool head – all important for when you're traveling, foraging and fighting.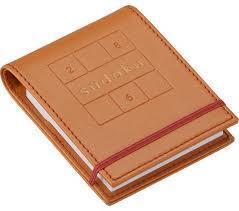 Pocket Sudoku
Pocket Sudoku
Sudoku is considered to be one of the best intellectual exercises for your brain. Puzzles help to stave off the symptoms of Alzheimer's disease while promoting deductive reasoning – all things you'd want to have under control in an extreme survival situation. Plus, it's a great way to pass the time if you can't sleep or have to wait out a zombie herd. In the absence of a decent library or online courses, it's crucial to your survival to keep your mind sharp. Sudoku sharpens the mind like a whetstone sharpens the blade.
Dog treats
Most zombie outbreaks only infect humans. This means you'll probably find yourself in a situation with plenty of wild dogs and no masters to keep them under control. Dog treats are great to have around when you're trying to catch a canine companion. They also make a great plan B for when you come across a starving dog more interested in feeding than fleeing. Dogs may be man's best friend, but loyalties can be tested on an empty stomach. When it comes to a ravenous dog standing between you and possible salvation, it might be wise to soothe the savage beast instead of engaging a domesticated wolf.
Obviously, packing smart and light is the way to go when venturing out into a zombie apocalypse. Unfortunately, these alone won't help guarantee your survival. If we learned anything from The Walking Dead, it's leadership and sticking together that increases your chances of seeing another day. However, knowing what to bring is a great place to start.

Guest Blogger - Kevin Fischer is a freelance writer and contributor for Examiner.com. With a passion for TV, technology, sports, movies and music, Kevin is best considered as entertainment-enthusiast. Check out his Examiner page or Tweet him @KevinTFischer





What they are saying about the Drive-In Horrorshow....
"10 out of 10"
- From Infernal Dreams
"Drive-In Horrorshow delivers a visual feast of blood splatter and clever storytelling."
- From Fangoria
"Drive-In Horrorshow takes the anthology and juices it fully with five unique stories that range from clever comedy to dark body horror."
- From Deadly Doll's House of Horror Nonsense
"A well made anthology of short films."
- Zombie Movie Database
"Highly recommended for those who want to confront the monsters under the bed of their childhood. And as always find them scary."
- From I 400 Calci (translated from Italian)
"The general tone of this film struck me, because I've seen real passion for the genre."
- From Ulteriorit Precedente (translated from Italian)
"This is a high recommend from me, very entertaining and obviously done by filmmakers who love the genre. Long live the horror anthology!"
- From McBastard's Mausoleum
"Drive in Horror Show is–WITHOUT A DOUBT–the greatest horror anthology since George Romero's Creepshow"
- From Planet Fury
"I can't stop singing its praises."
- From Rogue Cinema
"If you like horror anthologies pick this one up, there's something for everyone here."
- From Deadly Indie Drive-In
"Every now and then a movie will come out that knocks you socks off and with its originality, creativity and magnetic appeal- well Drive in HorrorShow is that flick."
- From Angry Princess
"With a solid lineup of 5 stories that range from the serious to seriously goofy, Drive-In Horrorshow is the perfect film for a Friday night. Or any night for that matter."
- From Planet of Terror
"A tasty little anthology in the vein of Creepshow or Trick 'r Treat, Drive-In Horrorshow is a nifty treat of a film, well worth checking out."
- From Radiation-Scarred Reviews
"A cut above the rest and slice of incredible independent filmmaking."
- From Horrornews.net
"One of the most entertaining horror anthologies I have seen in a while."
- From KillingBoxx
"The horror world is a fickle beast but Drive-In Horror Show manages to walk the lines of the subgenres without missing a beat. It's appeal reaches to horror fans of all types."
-Bill Fulkerson from Outside The Cinema
"Celebrates the long-lost beauty of the drive-in theater and all its bloody glory."
- From Basement Screams
"A slick five tale anthology film that was independently made and a reminder of cool shit we used to see on late night TV when we were kids."
- From Gross Movie Reviews
"A good throw back to the late night creature feature."
- From Cinema Fromage
"Top notch effects that invoke fear and comedy at the same time. I really really like this movie."
- Podcast at Movie Fan House
"Fantastic."
-Podcast at Horrorstuff
Other Press:
"The horror! But that's what he seeks."
- The Boston Globe talks with the filmmakers
"What motivated you and Michael Neel to make the transition from candid interviews and political documentaries to ghoulish gore horror?"
- Pamela Torres at Punk Globe interviews DIHS producer Greg Ansin
"Wowzers! That really sounds like some good shit!"
- Arrow In The Head is psyched for the release of DIHS