Guest Blogger (blog home)
Love is a Twisted Melancholy Disease
by Sarah Morrison
(Sarah is the star of the music video for "Love is a Twisted Melancholy Disease", from the Drive-In Horrorshow soundtrack. She blogs about her clothes in the video.)


Anthony purchased the dress you see me wearing in the graveyard scenes. He picked it out for the video. He even ordered me the right size.


"Love is a Twisted Melancholy Disease" by Ajax Ray O'Vaque
From the Drive-In Horrorshow soundtrack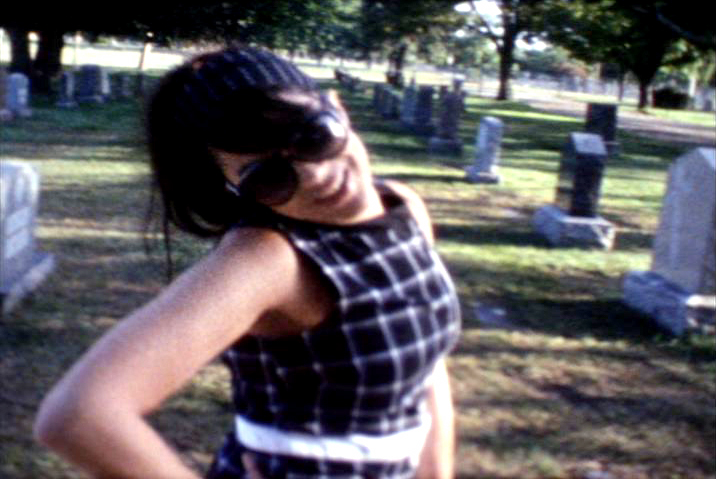 It was a really cute dress. He can't remember what the website was called. And I can't seem to find the dress. And I doubt this surprises anyone. But it was super cute, whereever it is. The white boots I'm wearing are from LF on Newbury Street.

On the bridge I am wearing a Nylon x Urban Outfitters t-shirt I got from my days doing the Urban Outfitters blog and a pair of denim leggings. The cute houndstooth headband is by Alternative Apparel. The leggings are from LF. I am wearing red velvet flats with cute bows on them. The cool vintage denim jacket that actually MAKES the outfit belongs to Anthony. I was cold so he let me wear it.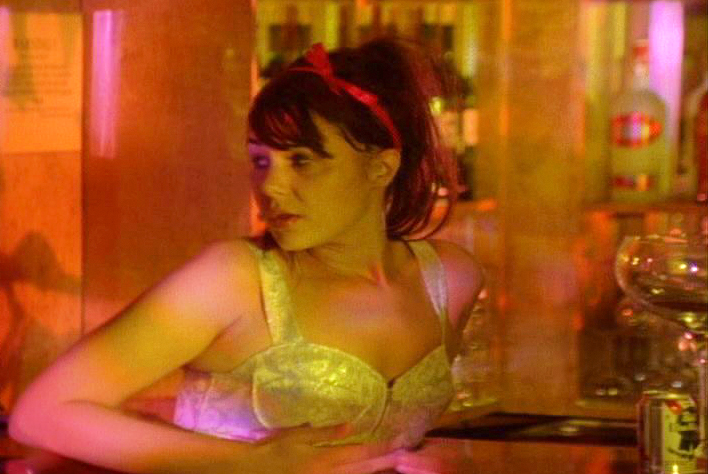 In the bar sequence, I am wearing this Walter dress I absolutely loved. It's an off white color with a gold print. It has a bustier top to it and zips. I have lost a bunch of weight. I have since let someone of my previous size have it, to enjoy as much as I did. The red ribbon in my hair is prolly from the craft store. Perhaps Michael's. I am wearing the red velvet flats again.
Lowell, Massachusetts isn't exactly the fashion capital of the world, so i feel like we did pretty well. Filming the video was an absolute blast. But, I'm still pissed I didn't get to meet Joey McIntire.


What they are saying about the Drive-In Horrorshow....
"10 out of 10"
- From Infernal Dreams
"Drive-In Horrorshow delivers a visual feast of blood splatter and clever storytelling."
- From Fangoria
"Drive-In Horrorshow takes the anthology and juices it fully with five unique stories that range from clever comedy to dark body horror."
- From Deadly Doll's House of Horror Nonsense
"A well made anthology of short films."
- Zombie Movie Database
"Highly recommended for those who want to confront the monsters under the bed of their childhood. And as always find them scary."
- From I 400 Calci (translated from Italian)
"The general tone of this film struck me, because I've seen real passion for the genre."
- From Ulteriorit Precedente (translated from Italian)
"This is a high recommend from me, very entertaining and obviously done by filmmakers who love the genre. Long live the horror anthology!"
- From McBastard's Mausoleum
"Drive in Horror Show is–WITHOUT A DOUBT–the greatest horror anthology since George Romero's Creepshow"
- From Planet Fury
"I can't stop singing its praises."
- From Rogue Cinema
"If you like horror anthologies pick this one up, there's something for everyone here."
- From Deadly Indie Drive-In
"Every now and then a movie will come out that knocks you socks off and with its originality, creativity and magnetic appeal- well Drive in HorrorShow is that flick."
- From Angry Princess
"With a solid lineup of 5 stories that range from the serious to seriously goofy, Drive-In Horrorshow is the perfect film for a Friday night. Or any night for that matter."
- From Planet of Terror
"A tasty little anthology in the vein of Creepshow or Trick 'r Treat, Drive-In Horrorshow is a nifty treat of a film, well worth checking out."
- From Radiation-Scarred Reviews
"A cut above the rest and slice of incredible independent filmmaking."
- From Horrornews.net
"One of the most entertaining horror anthologies I have seen in a while."
- From KillingBoxx
"The horror world is a fickle beast but Drive-In Horror Show manages to walk the lines of the subgenres without missing a beat. It's appeal reaches to horror fans of all types."
-Bill Fulkerson from Outside The Cinema
"Celebrates the long-lost beauty of the drive-in theater and all its bloody glory."
- From Basement Screams
"A slick five tale anthology film that was independently made and a reminder of cool shit we used to see on late night TV when we were kids."
- From Gross Movie Reviews
"A good throw back to the late night creature feature."
- From Cinema Fromage
"Top notch effects that invoke fear and comedy at the same time. I really really like this movie."
- Podcast at Movie Fan House
"Fantastic."
-Podcast at Horrorstuff
Other Press:
"The horror! But that's what he seeks."
- The Boston Globe talks with the filmmakers
"What motivated you and Michael Neel to make the transition from candid interviews and political documentaries to ghoulish gore horror?"
- Pamela Torres at Punk Globe interviews DIHS producer Greg Ansin
"Wowzers! That really sounds like some good shit!"
- Arrow In The Head is psyched for the release of DIHS